Supervisor screen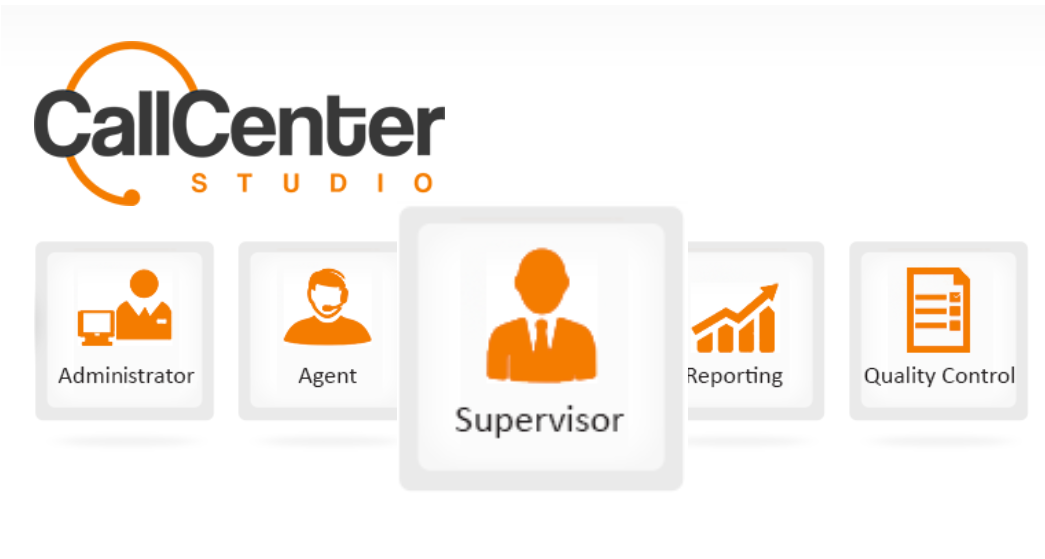 The screen that you will see when you first enter the supervisor module is as follows: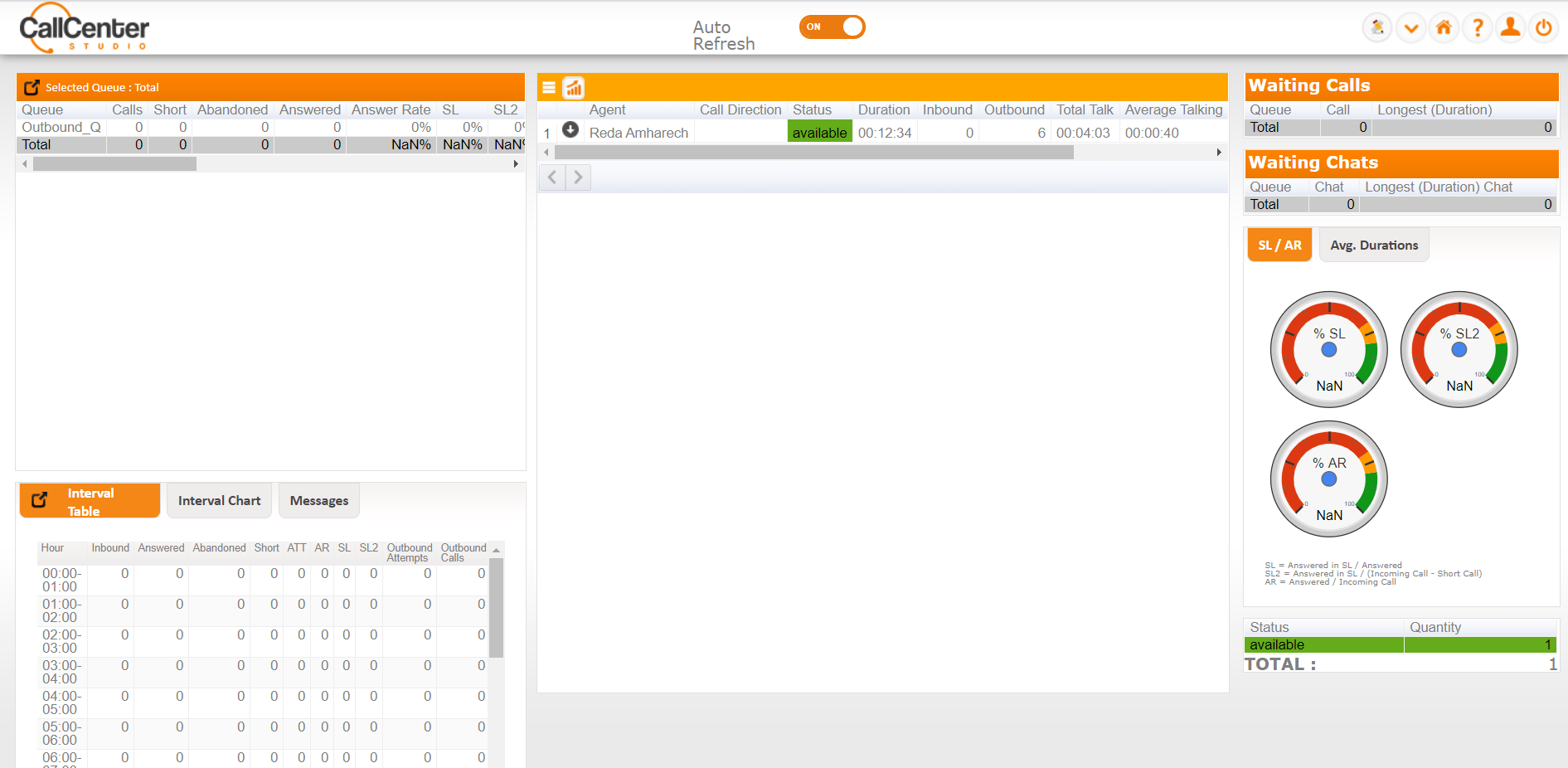 Information such as queue details, hourly call numbers, status of customer representatives, waiting calls, service levels, and answering ratios can be found on this screen.

Automatic Refresh

Automatic refresh button is located on the top of the supervisor screen.

When automatic is "On" updates will be refreshed in real-time.


Menus

The button marked with yellow color in the following screenshot opens menu options in the supervisor screen.


The following tabs will be explained in detail under Supervisor options menu:

Queue




Agent




Call




Campaign



Queue



The queue Screen is the default screen that is displayed. It is possible to see information such as queue details, hourly call details, customer representative status, waiting calls on this screen.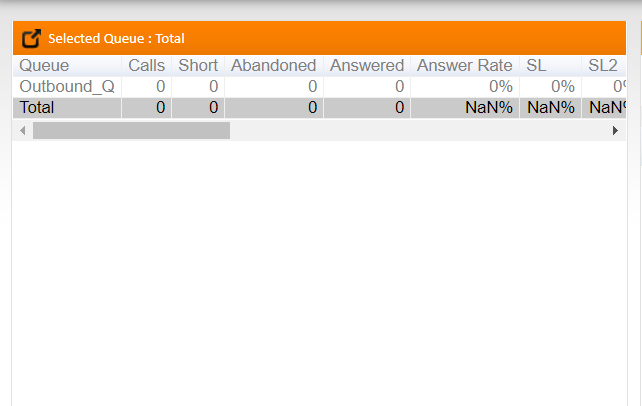 Queue Details

When the

button on the left top is clicked, a pop-up window with details is displayed. Inbound call, short call, the number of answered calls, ratios and total periods are specified in this section.

Furthermore, it is also possible to see details such as the number of incoming calls, number of missed calls, total conversation time, and how many calls answered by customer service agents.

Moreover, in tabs under the Queue details;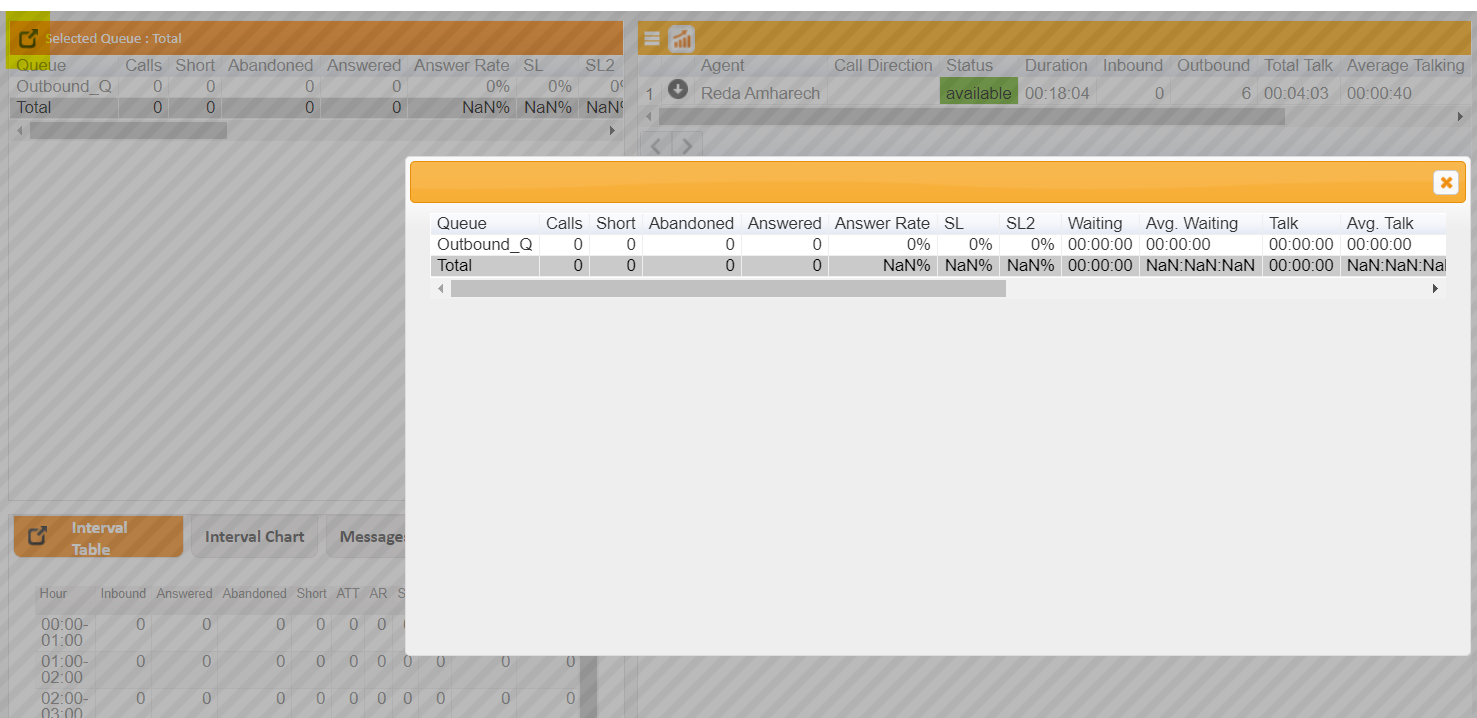 Hourly Calls Details

Information such as calls per hour, answered calls, and service level can be viewed here. It is possible to view total values, and hourly values by selecting individual hour lines.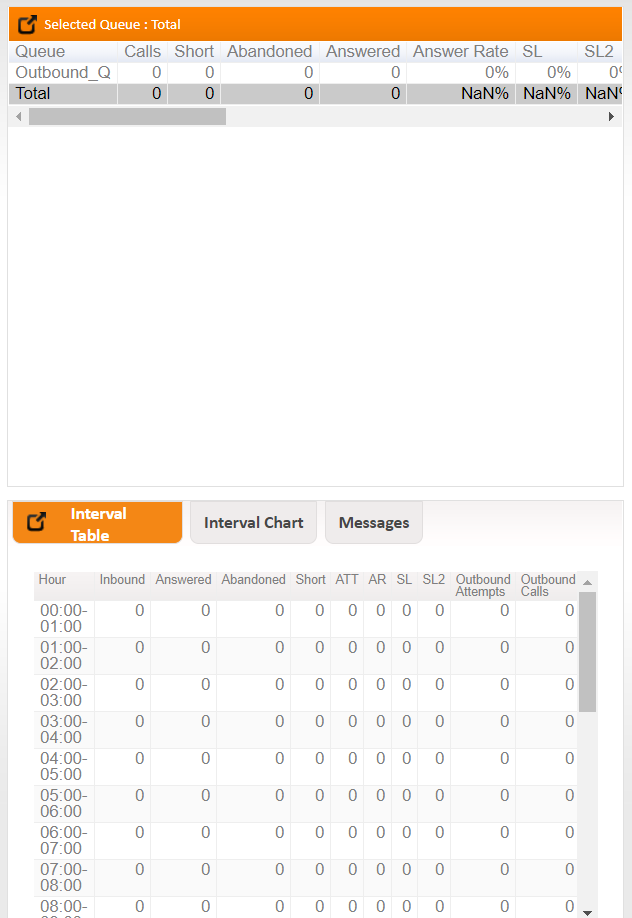 Hourly Call Graphic

Inbound calls are expressed with graphics. Green columns indicate answered calls and red columns show missed calls.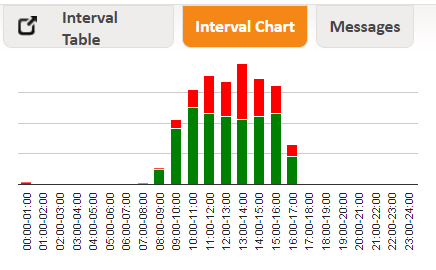 Messages

In the messages tab; messages coming from customer representatives to the supervisor can be seen and replied to.


Real-Time Customer Representative Dashboard

Status of customer representatives logged in the system, the number of calls they have answered, outcalls they have made and their answering ratios can be seen in the following screen.


When the "down arrow" link in the table is clicked, the following menu is displayed. From this menu, messages can be sent to the customer representative, status can be changed, login password can be changed, and system access can be changed.

When the agent is in "Talking" status, additional coaching options appear on this drop down menu, allowing the supervisor to listen, whisper, and join the conversation using his/her computer or phone.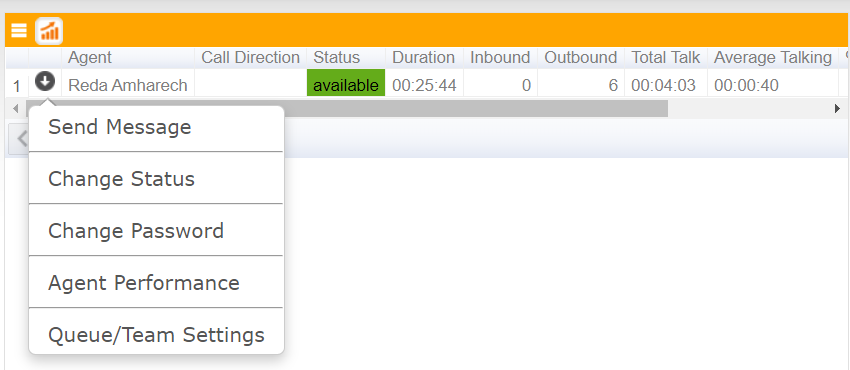 In the event that a customer representative forgot/lost his or her password, the team leaders can change the CR's password through this field.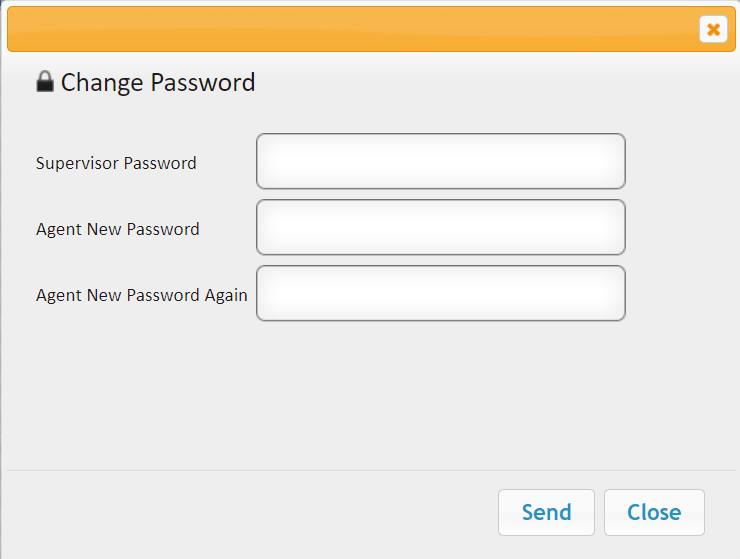 Sending Message

Messages can be sent to a customer representative by selecting the Send Message button, a pop-up window is displayed as seen below.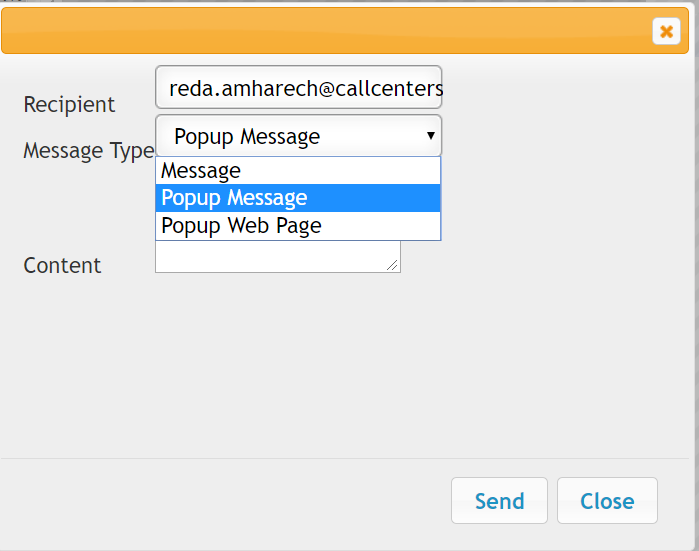 Changing Status

Team leaders can change by status's of agents by selecting from the status list using the Change Status Pop-up window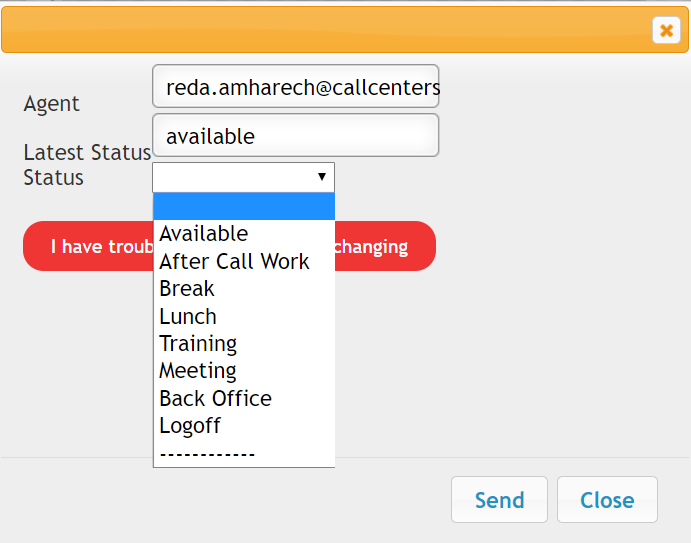 Agent Performance

Intra-day performance of customer representatives can be displayed in detail.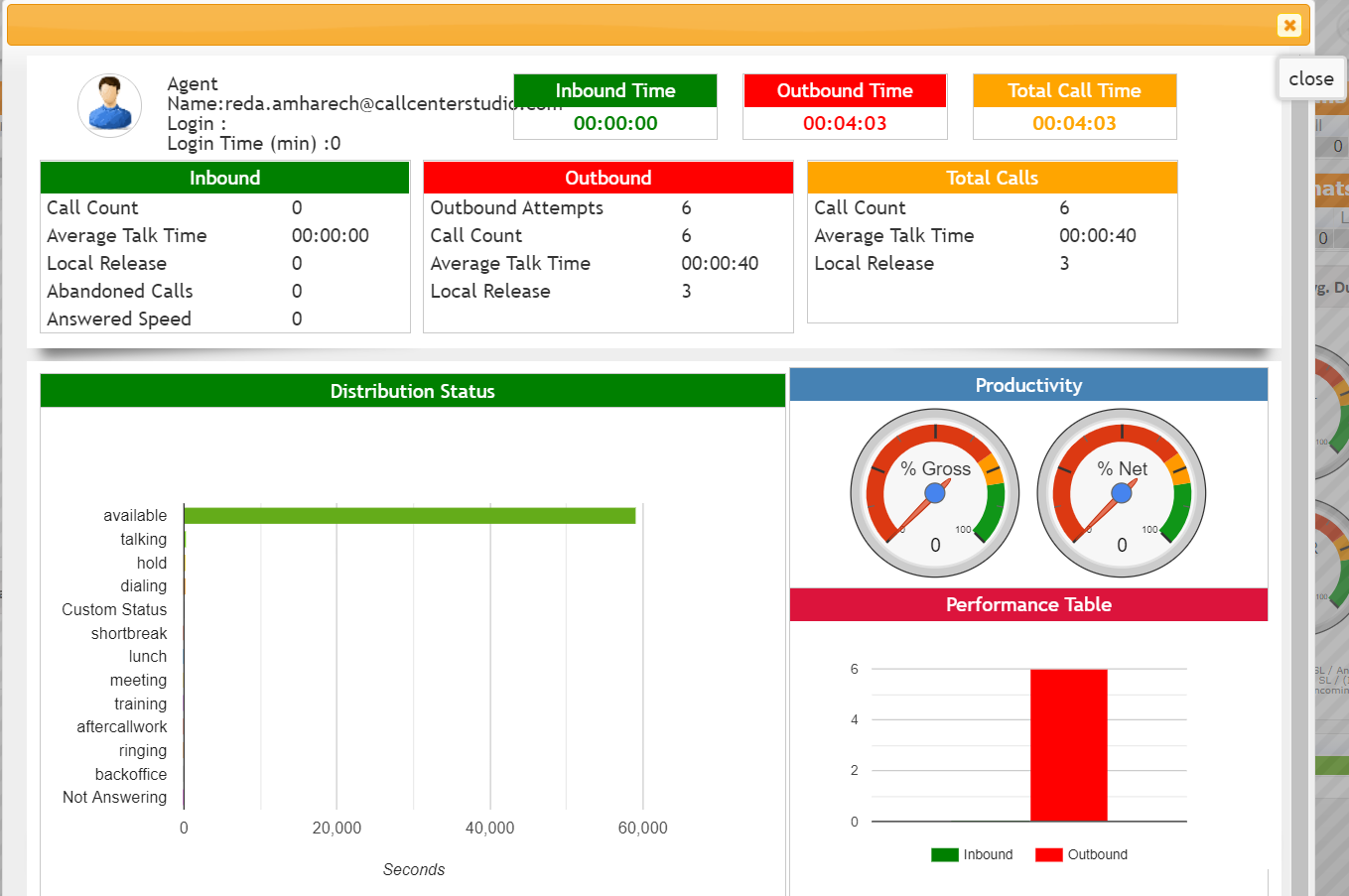 Adding/Removing Queue

Team leaders can display queues to which CRs can be added. On demand, a team leader can remove them from the queue, and add them to a different queue.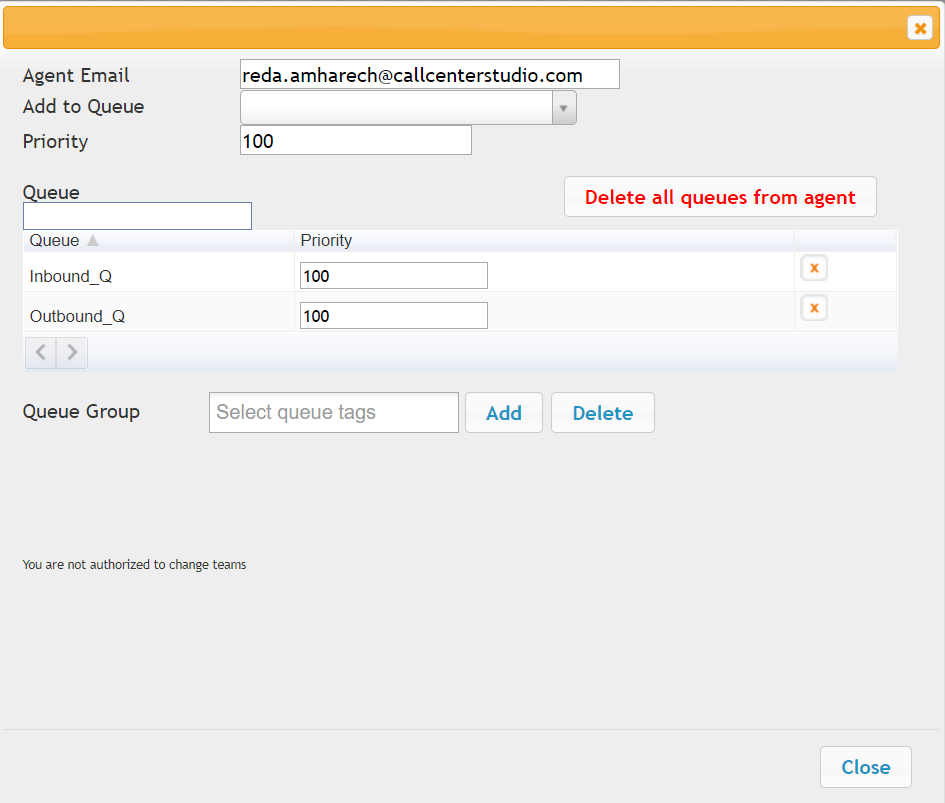 Listening Live agent

While a customer representative is in a conversation, this conversation can be listened to.

First choose "Call" in the supervisor menu.

This action will open the recording TAB


The supervisor needs to select Active calls in order to listen.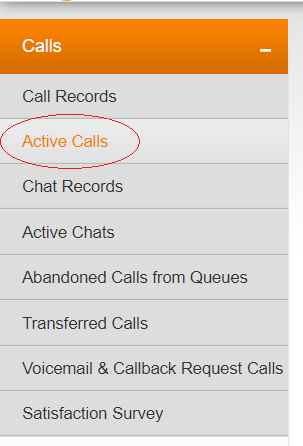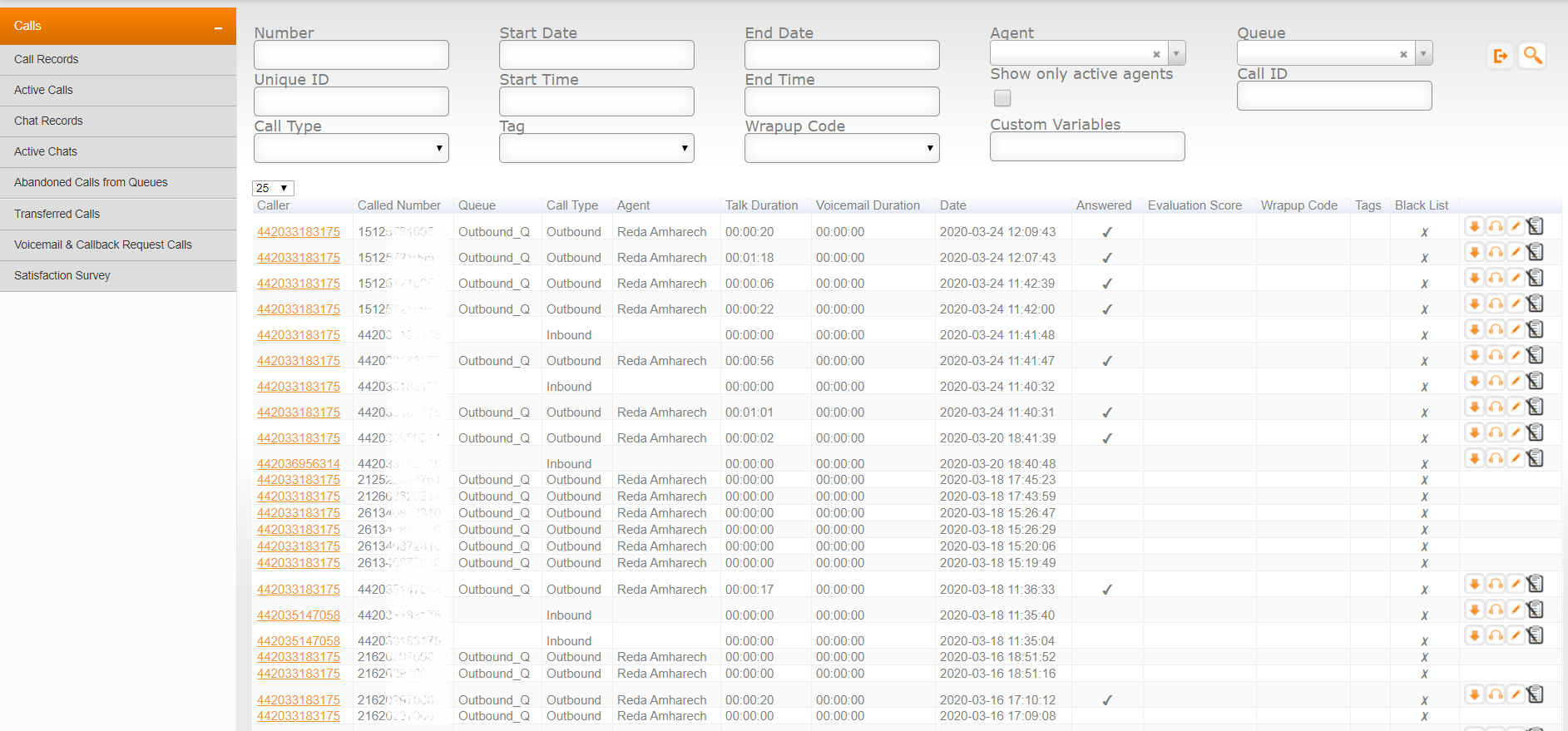 Active Calls

Current calls are listed in the active calls section. As soon as a call is entered the system, it appears in the active calls section. Once it has been assigned to a customer representative and the conversation has started, the conversation period starts.

Call Records

Conversations made in the cloud system are recorded. All previous calls as well as call recordings can be accessed through this section. Last 25 calls are listed as default. Criteria can be determined via special filtering fields and any call desired can be accessed. Selected calls can also be evaluated.

In this section, details such as Caller, Called Number, Customer Representative, and the recorded call can be found. The Caller field is clickable. When clicked, a pop-up window with additional call details is displayed.

The pop-up window contains four separate tabs:


Call Information tab: Detailed information regarding the call can be found.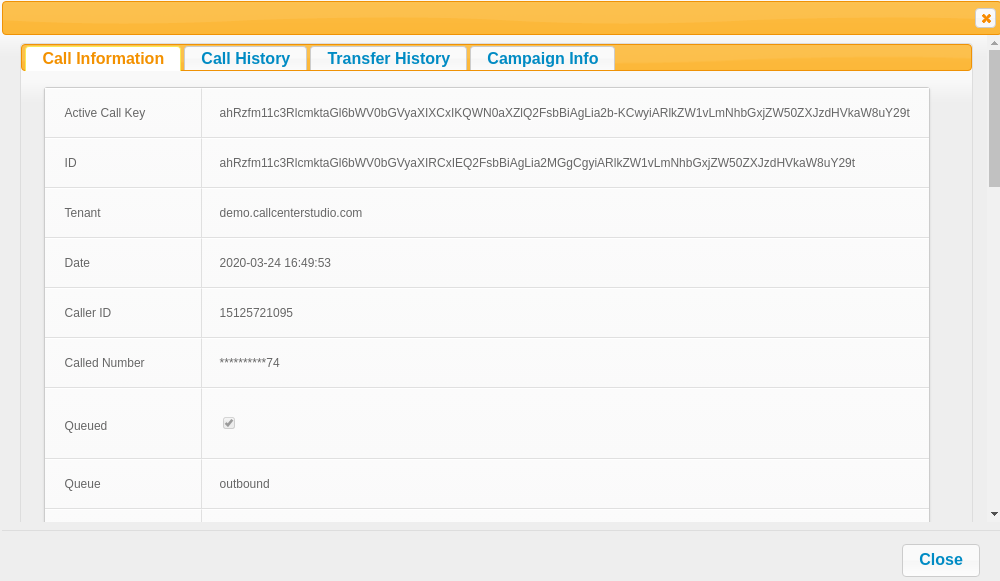 Call History Tab: Steps that the call has gone through including the interactive voice response (IVR) can be found.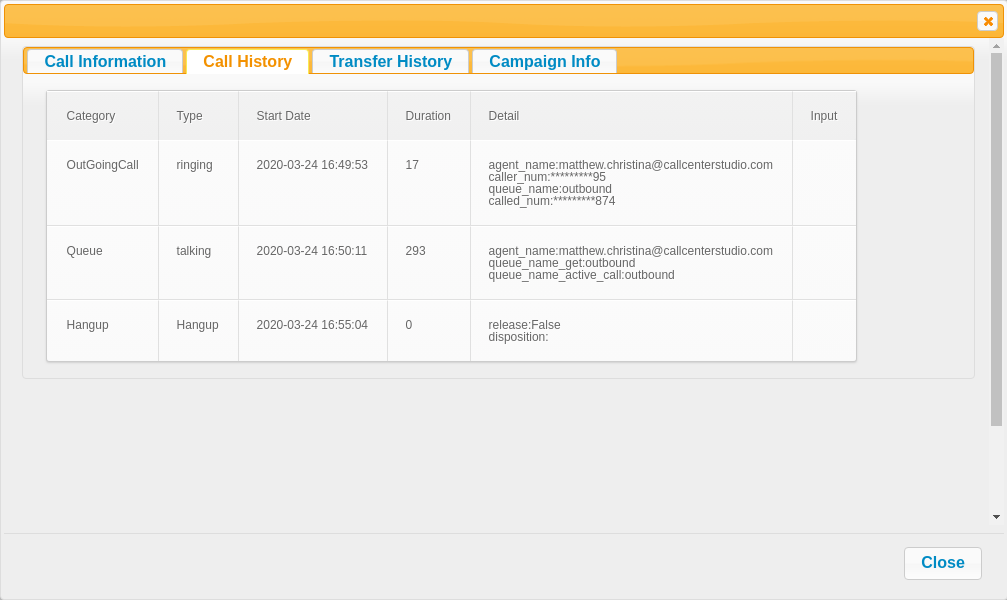 Transfer History tab: Information regarding transfers including IVR system, out number, and user transfers can be found.

Campaign Info tab: Campaign name, list name, contact email, and number of attempts can be found.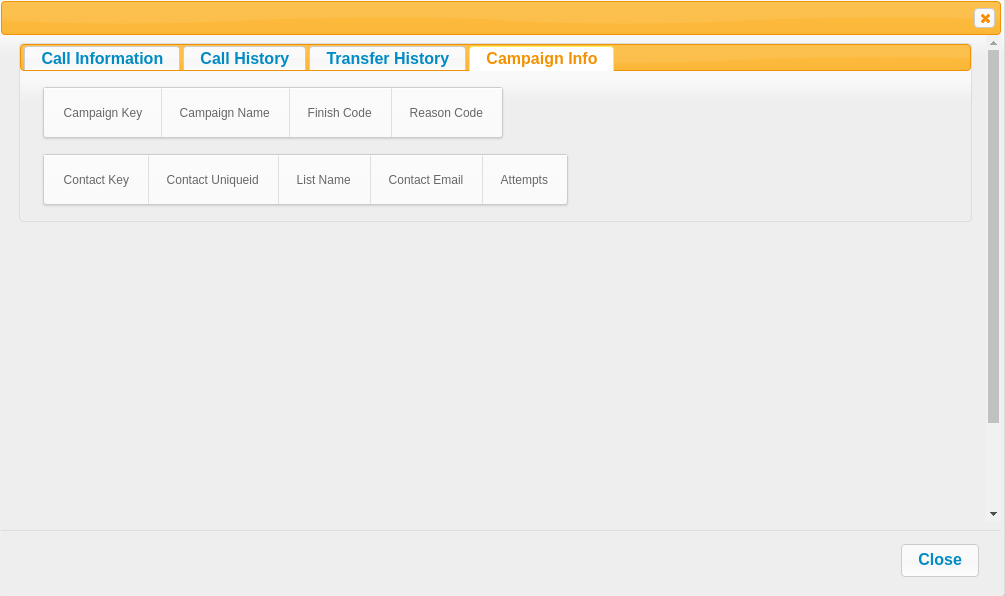 Customer Representative Dashboard Menu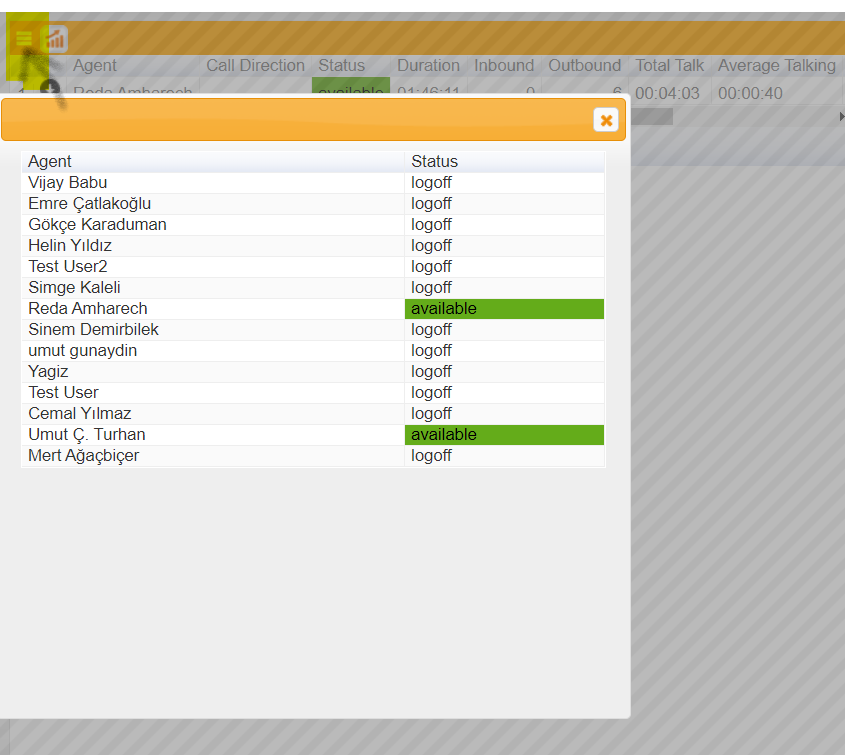 The screenshot above shows passive customer representatives. From this screen customer representatives can be sent a message according to Queue or team. In addition, the CR performance table can be viewed as a team or individually using the filter button next to the dashboard menu.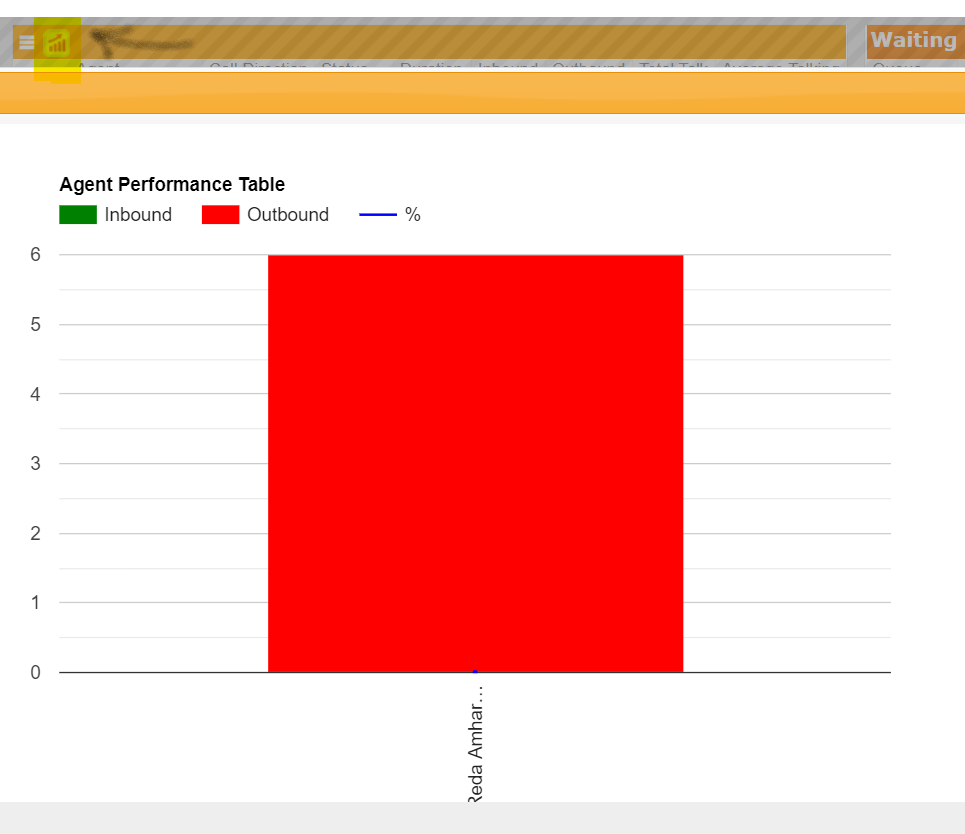 Collective Message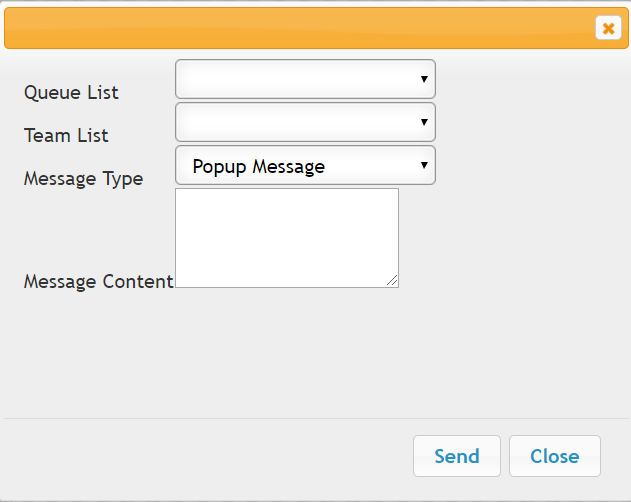 Filtering According to Team or Queue

Team Leaders can filter and view the customer representative list as team based or queue based.

Waiting Calls

Details about how many calls are in waiting status and the queue with the longest wait can be viewed.

If desired, a waiting call alarm can be created in the alarms menu and it can be highlighted to catch the user's attention.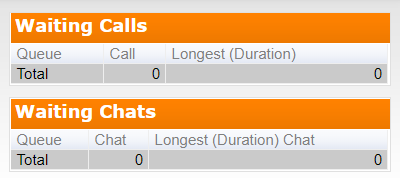 SL/AR and Average Holding Times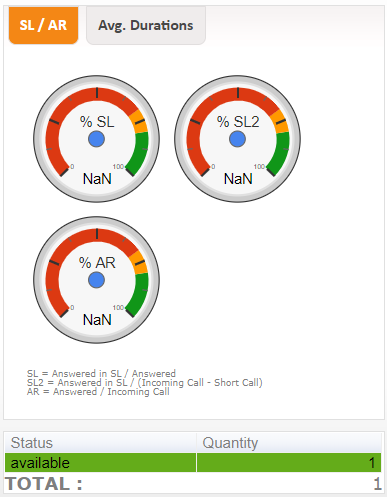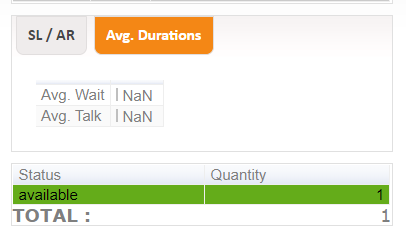 Service levels and answering ratios are displayed here:

SL ratio:


SL2 ratio:


Answering ratio (Answer Rate (AR)):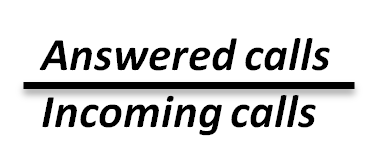 Values are displayed.

Average Holding Times

Status

Statuses of customer representatives are listed in this module. Moreover, customer representatives can be filtered according to the related status by clicking status in the list.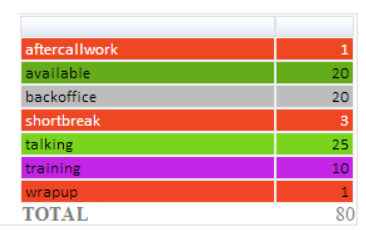 Customer Representative



Customer representatives can be followed according to status in this menu.


Campaigns



Campaigns are used for using the dialers built-in to Call Center Studio. Campaigns operate according to determined criteria.

If there is a campaign, details belonging to that campaign can be seen on the campaign screen. Such information as reaching ratios, distribution of result codes, loaded lists, metrics on calls completed, customer representative info, and result codes can be accessed here. Moreover, the last 10-minute call logs called with Dialer System are listed.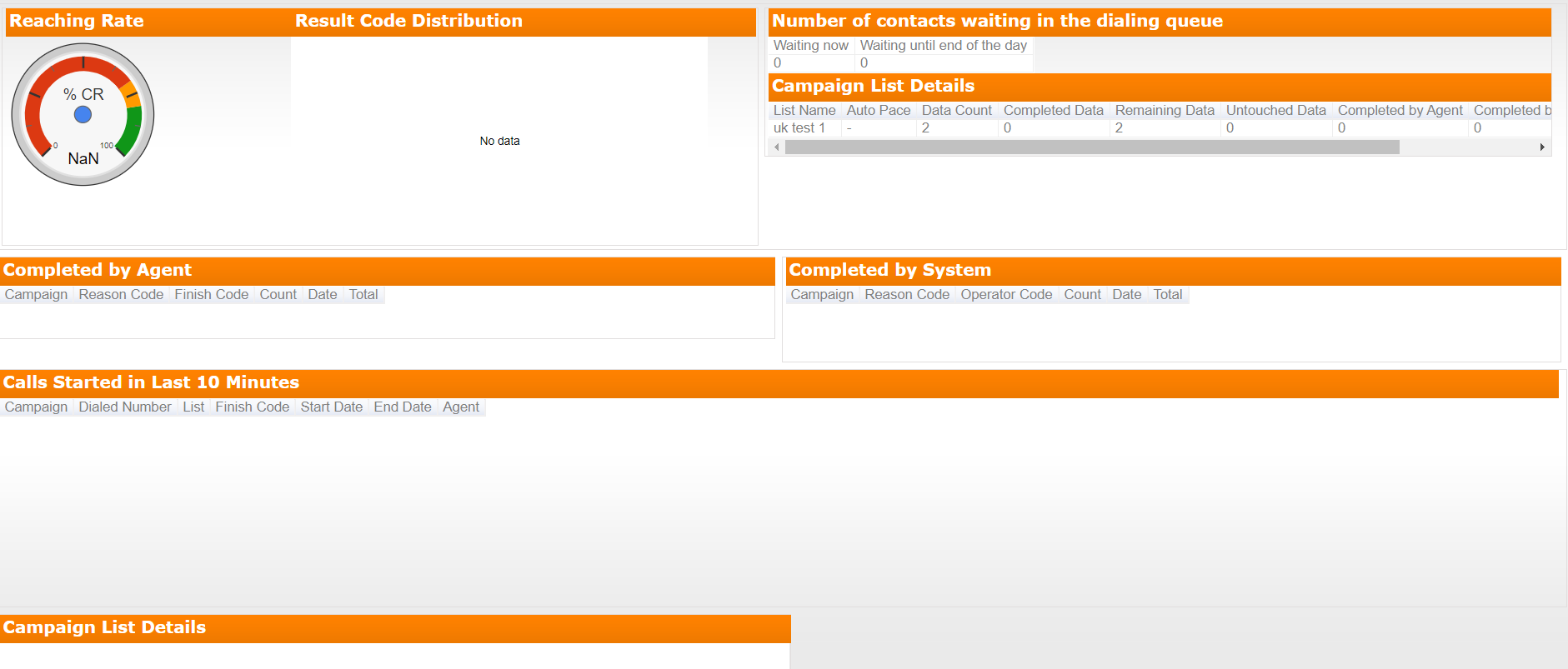 Custom Supervisor

Supervisors can determine the fields they want to monitor, and create a custom monitoring page. Using the dropdown menu boxes, select the items to be monitored. Then updated the screen by using

button.



to customize the screen and build a new one from scratch by pressing

The first step is to choose a layout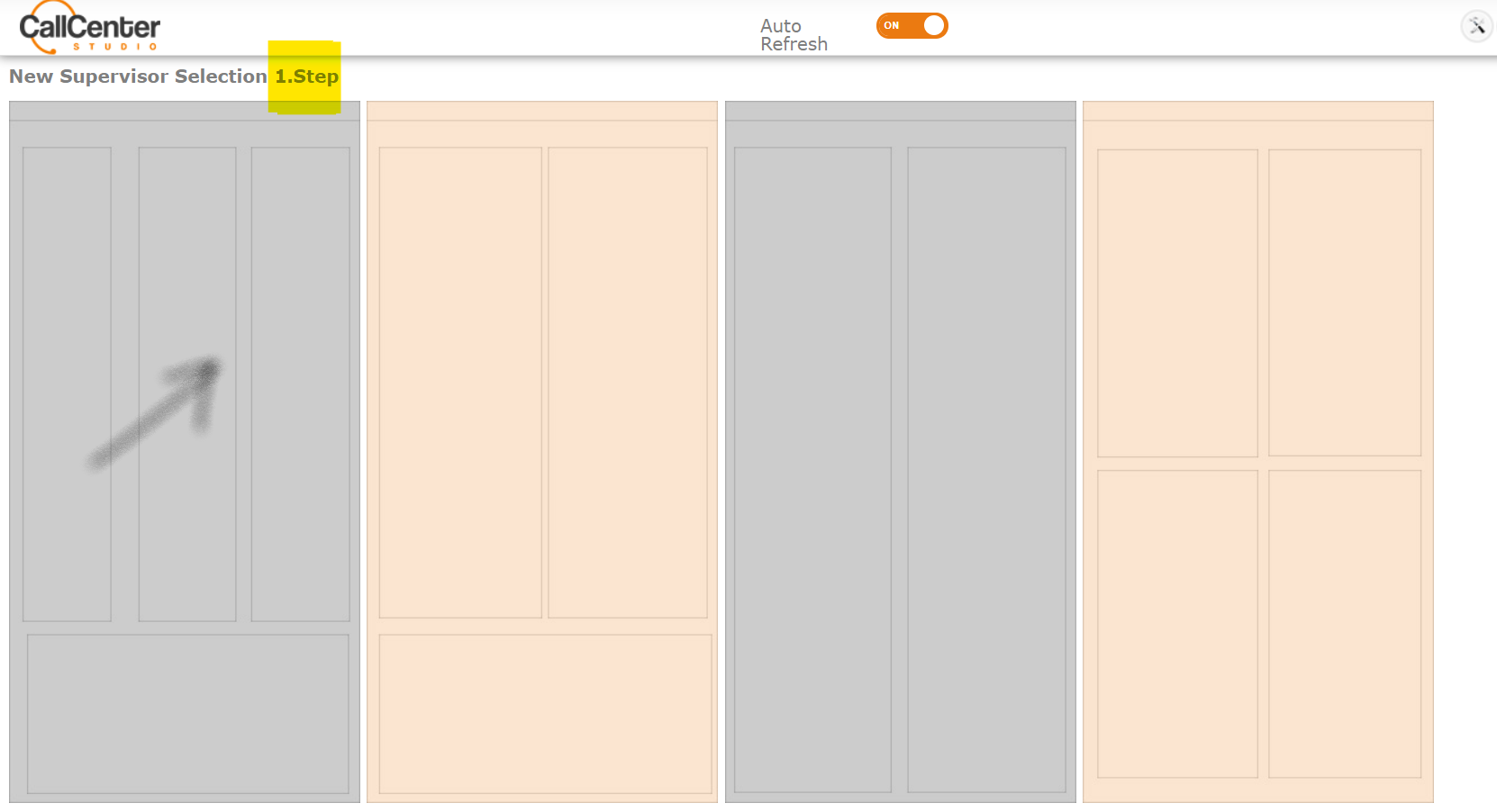 Then choose the indicators as shown: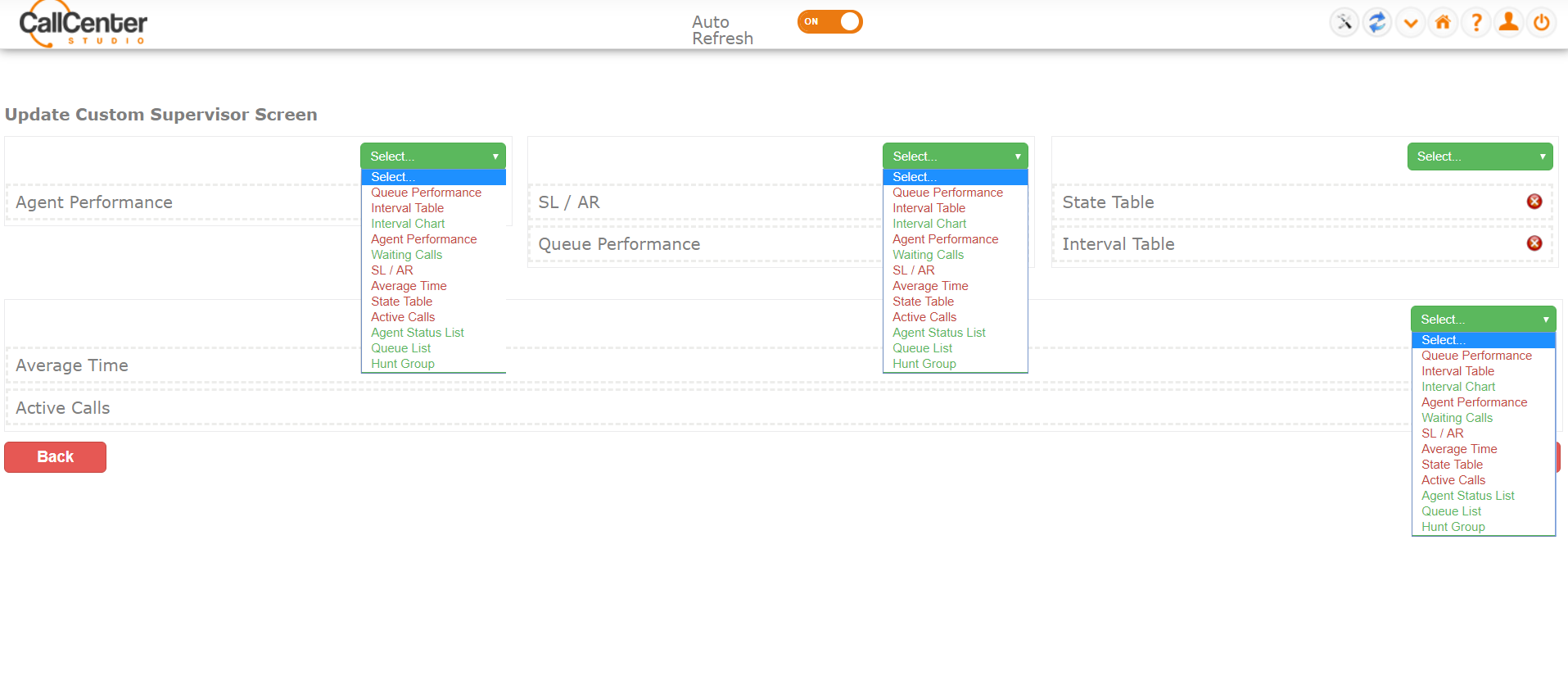 Note: All operations that can be performed in default supervisor screen can be performed in custom supervisor screen as well.
To finalize, Press

The new dashboard will appear as shown below: